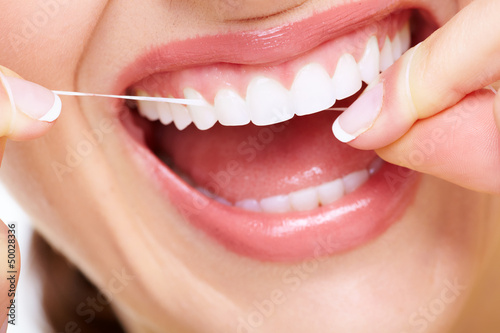 Flossing is a very important part of healthy dental routine which should be regular to keep teeth strong and healthy.It cleans those parts of the teeth where toothbrush unable to reach.Flossing can make teeth look brighter.
Brushing only prevents 50% of gum problems.So it is important to floss along with brushing for a healthy gum.Flossing helps to remove food particles which can not be seen in the mirror and helps to improve oral hygiene,also prevents tooth decay which can reduce risk of developing gum disease by removing plaque.It also helps to get rid of gum swelling and redness.
The Reasons Why Should Floss Regularly :-
1. Prevents Bad Breath :- If dental plaque is not cleaned or the cleaning is left incomplete,it goes on to occupy the space between the teeth.This releases a bad smell in the mouth.Plaque is the major reason of bad smell.Gum diseases and tooth decay caused by dental plaque are sources of bad breath.
2. Removes Plaque :- Flossing is a good way to remove plaque from teeth.Plaque is a colorless sticky coating which forms in teeth when bacteria and sugar mix with each other.Regular flossing can prevent formation of plaque.So it important to remove plaque because it hardens up and becomes tartar after some time.When tartar builds up it goes on to cause gingivitis which is the swelling of gums is the first stage of gum disease.Later the plaque and tartar can easily travel down the gum line that can cause a gum disease which is known as periodontal disease.
3. It Makes Brushing More Effective :- Brushing teeth is the best after flossing because it removes all sticky and hard things between the teeth and makes the process of brushing more effective and easy.Flossing gives better results to mouthwashes.After flossing and brushing mouthwash is the most effective thing for dental routine.
4. Saves Money :- Flossing a minute or two regularly is all need to solve all these problems.Taking care of teeth with brushing and flossing compensates for this routine checkups.This will save a lot of money.
5. Oral Hygiene and Flossing Keeps Healthy :- By flossing and brushing keeping mouth clean and healthy.Keeping an eye of oral hygiene is important to keep healthy.Gum diseases are linked with many diseases but those are often not recorded,but it is found that patients with diabetes have swollen gums are evidently a symptom of gum disease that is caused because of the negligence of oral hygiene.
The ways how to floss :-
[a] Use a proper piece of floss about 15-18 inches,slide it between teeth in the shape of alphabet C,polish teeth in upside down motion.
[b] If there is bleeding it means the gums are inflamed because a plaque has been developed and needs to be cleaned.It is sign of the teeth and mouth that need to floss and floss a bit more,but it can be a gum disease and if it persists for a long time then you should visit your dentist.
[c] Afloss holder is needed when it is found difficult in hand movement during flossing.There are two types of floss holder,one is wooden like a toothpick and other is a two-pronged plastic floss holder which allowed to clean teeth with single hand.
That is why flossing all you can for a better oral hygiene and a sparkling smile.